FPGA LOGI-BONE – FPGA DEVELOPMENT BOARD CAPE FOR THE BEAGLEBONE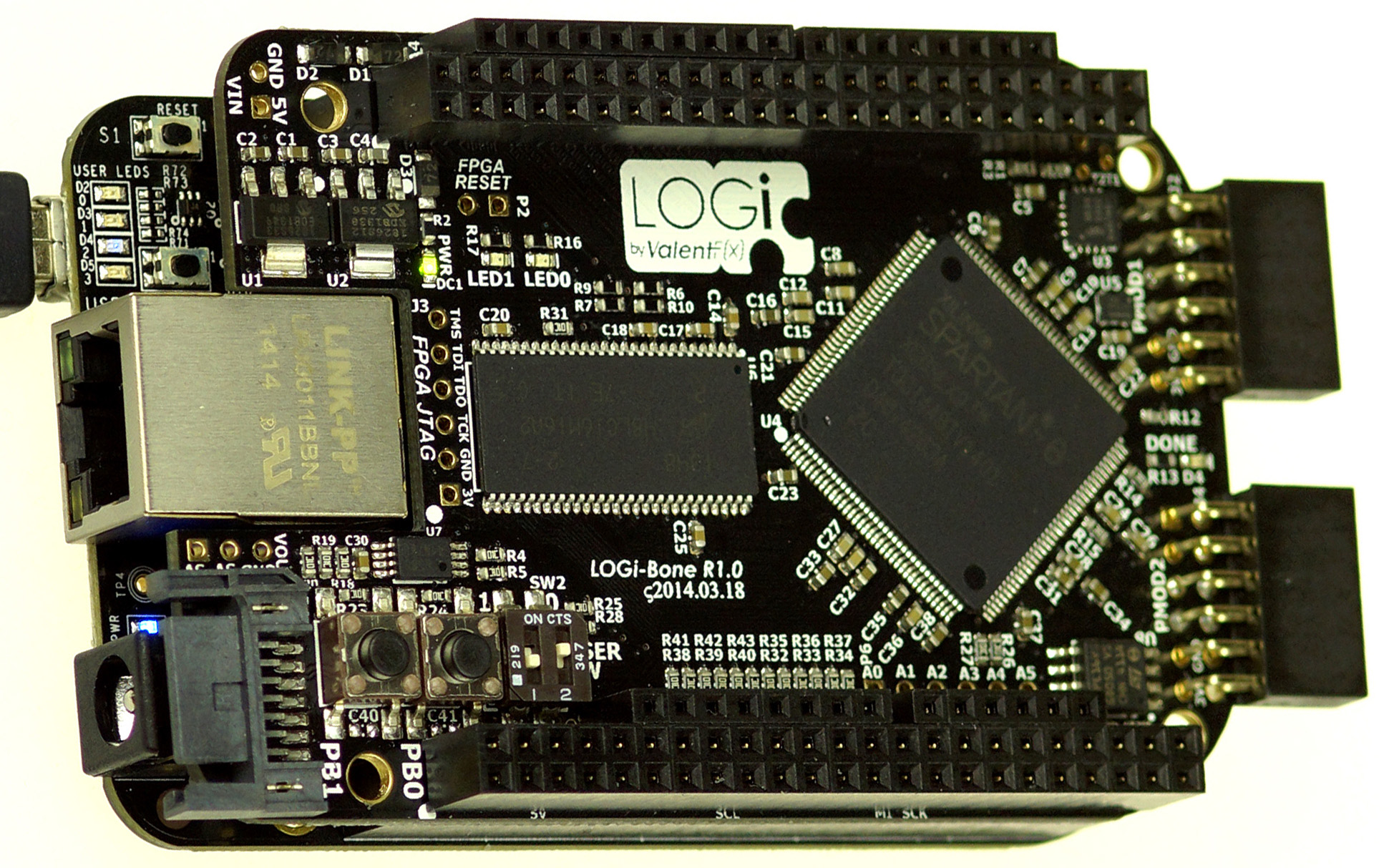 FPGA MEETS CPU – USE YOUR IMAGINATION
The LOGi-Bone is an FPGA development platform that has been optimized for use with the BeagleBone. The LOGi-Bone/BeagleBone combination was designed with key design attributes in mind including ease of use, maximum expansion capability and low cost to performance ratio. The LOGi-Bone creates a powerful and versatile digital canvas for users to create their imaginative digital designs.
SW/DRIVERS SUPPORT – DON'T GET BOGGED DOWN IN THE MUD
The LOGI-Team has developed software and drivers that make it easy for users to communicate between the FPGA and the Beaglebone. APIs and Wrappers have been written that allow easy access to the FPGA custom hardware peripherals using the wishbone bus standard. Applications can easily be written using C,C++ in conjunction or with python. APIs for these languages allow easy to use and high bandwidth communication with the FPGA.
APPLICATIONS – DON'T WAIT TO GET IT WORKING
The LOGi-Team has created a number of applications for the LOGi-Bone including a bitcoin miner, machine vision and autonomous vehicle and robotic controllers. All applications are open source and available on the LOGi repository. An "App Store" (Free) application methodology has been developed that allows users to simply download the latest fully built applications and run them with no need to delve into building the HDL and source code.
CUSTOM HARDWARE
The LOGI-Team is developing custom hardware modules to enable direct support for applications that they could not find an easy existing solution. LOGi Hardware modules are designed using the widely used standards including Digilent Inc PMOD, Arduino Shield and high bandwidth modules using SATA connectors (For LVDS expansion only - SATA protocol not supported). Existing LOGi modules include the LOGi-Cam and the LOGi-EDU.
FEATURES:
---
FPGA: Spartan 6 LX9 – TQFP144 Package - XC6SLX9-2TQG144C

Beaglebone Black optimized

4 layer optimized design to support maximum performance for high bandwidth applications

Length tuned GPMC, SDRAM, LVDS signals

2x Push buttons

2x DIP Switch

1x High bandwidth SATA connector expansion port for maximum LVDS bandwidth (SATA protocol not supported)

32 FPGA GPIO through PMOD and Arduino headers

2x Digilent Inc. PMOD ports supporting 59+ plug and play hardware modules

1x Arduino Header supporting 200+ Arduino Shield modules

Optional GPMC, SPI or I2C port access from the Beaglebone

10x length tuned LVDS pairs

32 MB SDRAM
RESOURCES
---
PRE-ORDERS
---