FPGA LOGi-Mark1 Overview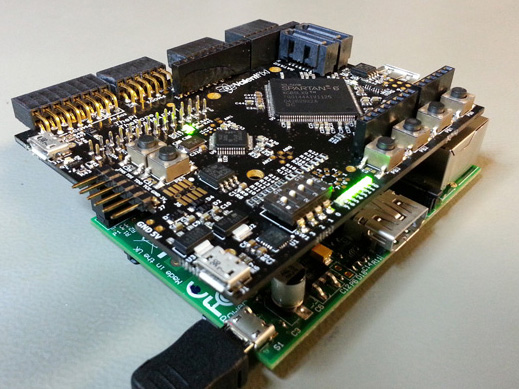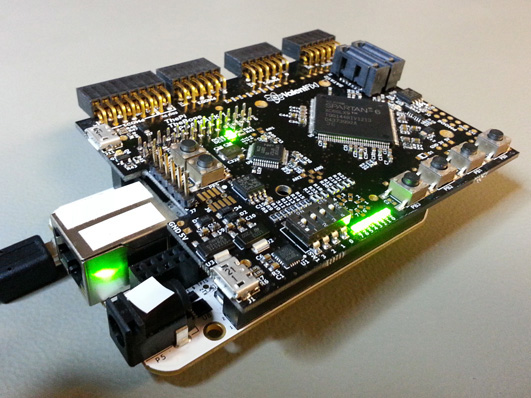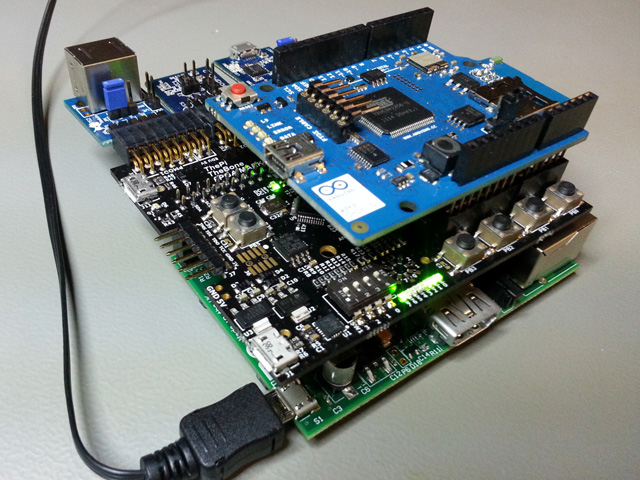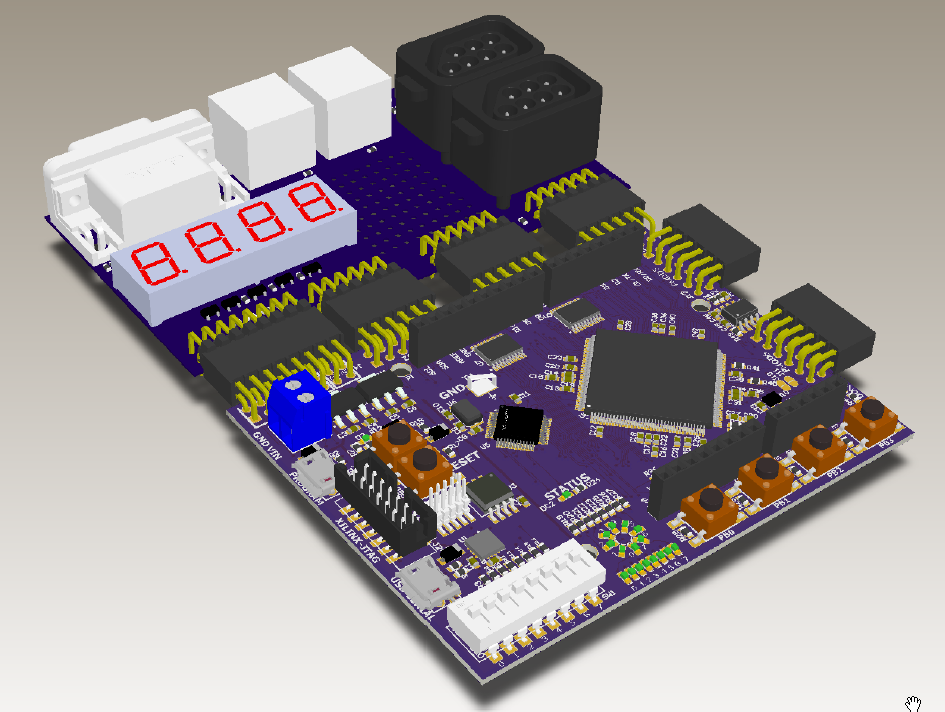 LOGi-Mark1 Part of the LOGi Family
The FPGA LOGI-Mark1 was designed as member of the FPGA "LOGi" Family series. The FPGA LOGi series is a family of FPGA development boards that seeks to ease FPGA development and unify existing hardware interfaces and platforms. The current FPGA development process has difficulties including the need to use expensive programming tools, having non-standard expansion hardware interfaces, being difficult and error prone to create wiring interfaces to existing embedded platforms and requiring a high learning curve to become proficient with HDL programming. The LOGI family addresses these issues and focuses on the following attributes in order to create a seamless and highly versatile FPGA development experience.
The LOGI Family takes into account the need for FPGA beginners to quickly be able to learn the basics of FPGA design and allow them to migrate to current high performance FPGA applications.
The LOGI family has built in programming options that eliminate the need to use expensive proprietary programmers.
The LOGI family provides direct plugin interfaces for multiple existing hardware peripheral standards allowing for a wide array of existing low cost hardware to be directly compatible with the LOGI development boards.
The LOGI family provides direct connections to multiple popular embedded development platforms such as the Beaglebone, Raspberry Pi and Arduino
MARK-1 Intended Use Topologies
The MARK-1 was designed to be used in multiple environments and topologies. A few suggested topologies for using the MARK-1 that are optimized for students, makers, hobbyists and mad scientists in mind are as follows.
FPGA MARK-1 Feature set
Drag and Drop programming! The MARK-1 will show up as a thumb drive. Simply copy your FPGA bitstream file to the device and you are done. Use the direct output of the FPGA tools! No JTAG tools Needed. No file conversion tools needed.
Unbrickable! The MCU (LPC1343) used for configuration includes a ROM based bootloader for upgrading, hacking and general fiddling around with.
The MARK-1 comes fitted with a power Xilinx Spartan – 6 LX9 device. Plenty of room for all of your projects. Xilinx Webpack is freely available for Windows and Linux.
The MARK-1 can also be used as a general development tool for the NXP LPC1343 microcontroller. Both the FPGA and MCU are accessible through a USB interface
Arduino Compatible! Headers with +5v tolerant I/O
6 P-MOD ports. Digilent Inc has lots of low cost expansion boards (LCDs, D/As, Ethernet interfaces, etc) that directly plug into the MARK-1 . Endless expansion options!
On-board I/O for debugging/test includes 4 push buttons, 8 LEDs and 8 dipswitches
On-Board FT230X for USB-Serial to the FPGA
50MHz oscillator that can be easily stepped up or down in the FPGA. Imagine synthesizing a bunch of 8-bit MCUs that run at 100Mhz!
ADC data from LPC1343 can be routed to FPGA via Parallel Bus
Open Source. All Hardware/Software will be available via Google Code.
Plenty of examples will be provided to get you started. Some will directly compatible with the "Pong-Chu" book http://www.amazon.com/FPGA-Prototyping-Verilog-Examples-Spartan-3/dp/0470185325
Resources
---
FPGA MARK-1 Schematics:
MARK-1 FPGA Development Platform - Updated: 01/29/2013
FPGA MARK-1 3D Renderings in multiple use configurations:
MARK-1 With EDU Learning Expansion PCB attached
MARK-1 With Arduino Shield attached as add on peripheral
Supplemntary Book (Verilog):
FPGA Prototyping By Verilog Examples
Source Code ported to be comptible with the "Pong Chu" book (Verilog):
https://github.com/valentfx/Mark1_Pong_Chu_Vlog
Source Code for VHDL will be ported soon.
Source Code for the Drag and Drop LPC firmware (LPCXpresso Project):
https://github.com/valentfx/Mark1_DragDrop_Config
Creative Commons License:
http://creativecommons.org/licenses/by-sa/3.0/